Short Bowel Syndrome (SBS) is a severe and life-altering condition that significantly affects the body's ability to absorb essential nutrients and fluids. This malabsorption issue typically arises from the surgical removal of a large portion of the small intestine due to disease or injury. While SBS can occur in individuals of any age, it presents unique challenges and considerations when diagnosed in older adults. In this comprehensive guide, we aim to explore the complexities of Short Bowel Syndrome in the elderly, detailing its symptoms, diagnosis, treatment, and the experience of family members caring for their loved ones living with this condition.
What is Short Bowel Syndrome and how does it affect Older Adults?
As people age, their bodies undergo numerous physiological changes that can affect various systems, including digestion. These changes can sometimes exacerbate the effects of Short Bowel Syndrome in the elderly, making the condition considerably more complex to manage and treat than in younger patients.
Older adults with SBS may experience severe symptoms such as persistent diarrhea, significant weight loss, chronic fatigue, abdominal discomfort, and dehydration. These symptoms can be more pronounced due to existing age-related issues like decreased mobility, other chronic diseases, and slower metabolic functions.
The Challenge of Diagnosing Short Bowel Syndrome in Older Adults
Diagnosing Short Bowel Syndrome in older adults can present unique challenges. Elderly patients often have other co-existing medical conditions, making it more difficult to distinguish symptoms associated solely with SBS. A comprehensive medical history, meticulous physical examinations, and specific diagnostic tests such as blood tests, stool tests, and imaging scans are typically necessary to establish a SBS diagnosis.
A Comprehensive Approach to Treating Short Bowel Syndrome in the Elderly
Once diagnosed, the treatment for SBS in older adults aims to alleviate symptoms, improve nutritional status, and enhance the quality of life. It's crucial to take a holistic approach that considers the individual's age, overall health, and personal needs when treating elderly SBS patients. The treatment plan typically involves nutritional support, medication, fluid management, psychological support, and regular medical monitoring.
The Family Perspective: A Closer Look into Caregiving for Elderly SBS Patients
As an integral part of the patient's support network, family members are often deeply affected by their loved one's SBS diagnosis. Understanding the unique experiences and challenges that caregivers face can foster a more supportive environment for both the patient and their family.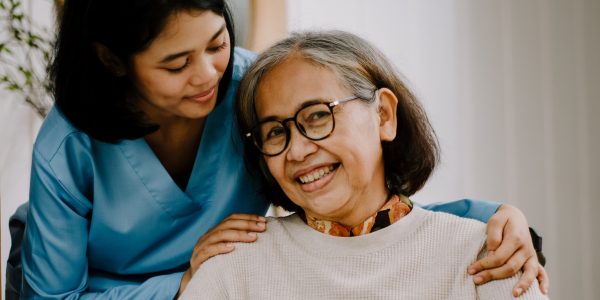 Empowering through Education
One of the most powerful tools a caregiver can have is knowledge. Understanding the ins and outs of SBS, including its cause, symptoms, treatment options, and potential complications, can help reduce fear and anxiety associated with the diagnosis. Equipped with this understanding, caregivers can become more confident in their role and provide more effective care.
Providing Nutritional Support
Nutritional support forms a cornerstone of SBS management, and caregivers often play a critical role in this aspect. It's not uncommon for elderly individuals to have a reduced appetite or altered taste, adding another layer of complexity to meal planning and preparation. Caregivers need to ensure meals are not only nutritionally adequate but also appealing and easy to digest. This may involve including more high-protein foods, reducing fat intake, or using vitamin and mineral supplements.
Ensuring Proper Hydration
With SBS, maintaining proper hydration can be a constant challenge, especially for older adults. Caregivers need to be vigilant about their loved one's fluid intake and output. This involves monitoring signs of dehydration and providing oral rehydration solutions as needed.
Emotional Support and Coping
SBS can take a significant emotional toll on patients. Feelings of frustration, anxiety, or isolation are not uncommon, especially for older adults who might be dealing with other age-related problems. Emotional support from family members can be invaluable. Encouraging conversation, providing reassurances, and just being there to listen can go a long way in helping a loved one cope with SBS.
The Importance of Self-Care for Caregivers
While it's important to provide care for a loved one with SBS, it's equally crucial for caregivers to take care of their own health and well-being. Balancing caregiving duties with self-care can be challenging but necessary. This could mean taking time for relaxation, maintaining social connections, and seeking support when needed.
Conclusion
Coping with Short Bowel Syndrome in elderly patients requires a comprehensive understanding of the condition and its implications. The journey can be challenging both for patients and their caregivers. However, with timely intervention, appropriate care, understanding, and a strong support network, it is possible to significantly enhance the quality of life for those affected. Let us remember that aging does not necessarily equate to diminishing health or happiness. With the right approach and a robust care regimen, elderly adults with SBS and their families can navigate this journey with strength, resilience, and optimism.