It takes a village.
Raising children in general can be a wildly overwhelming task for even the most experienced parents. For parents or caregivers of children who are managing short bowel syndrome, well, the responsibilities may have just a bit more complicated.
For families affected by short bowel syndrome (SBS), an active and accessible support system or network is going to play a huge role in the success outcomes of your child (both clinically and emotionally).
What is a great support system?
Truth is, there is no criteria for what makes a great support system. It is all about creating the unique support that you will need. For parents or caretakers navigating the complexities of rare disease management such as SBS, it is important to cover all of your bases. While it may not always be possible to have one or more resources in each category, here are some considerations for building an accessible and active support system.
Clinical Support
There is no doubt that short bowel syndrome can be a complicated issue. When it comes to managing any rare disease state, a strong and well-versed clinical team is a must. There are countless multidisciplinary medical clinics around the country that specialize in Intestinal rehabilitation or SBS in particular.
These clinical teams should not only understand your disease state but be kept up to date on relevant medical history or developments. From immunizations to symptomatic complications or changes in bodily function, a strong clinical support team is educated, accessible and aware.
Emotional Support
Ask any parent (regardless of their child's health status), emotional support is everything. Take a moment and consider how important the role of a good friend or shoulder to lean on can be in difficult times. Solid emotional support does not need to be up to date on your child's medical condition, they do not need a clinical background or even an understanding of short bowel syndrome.
Building a strong network of emotional support means having someone or multiple people that you can rely on when and where you need a quick pick me up. Perhaps a phone call, a night out or sometimes a staycation-style escape from reality. Emotional support is the key to a sound perspective and attitude when managing the heavy weight of life's responsibilities.
Another major consideration is professional, emotional experts such as a Psychotherapist, Mental Health Expert, Licensed Clinical Social Worker, and/or Psychiatrist or Psychologist. There is absolutely no shame in leveraging a clinical expert to manage emotional and mental health. Your ability to care for those you love is going to largely depend on your ability to care for yourself.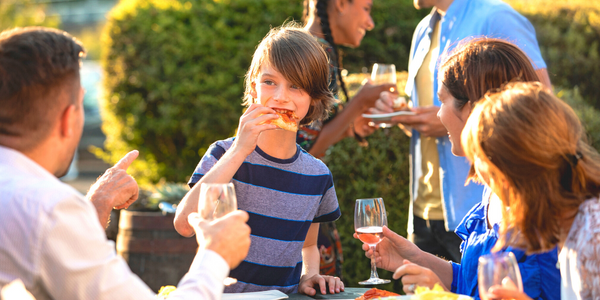 Community Support
Whether you find it locally or virtually, the power of community is undeniable. There is something special about finding and connecting with others with similar viewpoints or challenges. For patients and families living with short bowel syndrome, finding a community of people who are going through what you're going through can play a huge role in your life.
See if there is a local chapter of an organization dedicated to helping families with short bowel syndrome. This could help you build a solid network of people with similar experiences right in your own backyard.
Technology and social media give us the amazing opportunity to connect with strangers from all over the world, who may be experiencing or are similarly impacted by short bowel syndrome. There are countless communities available through social media channels like Facebook, LinkedIn, Twitter specific to SBS.
Try starting with by checking out some of these Facebook Groups dedicated to supporting families with short gut syndrome:
Reach out, join the club and ask questions! You never know the hidden tips and tricks that are out there or discovered by others dealing with day to day realities of the disease state.
Who knows, you may even be a tremendous resource for someone else.
Support networks come in all shapes and sizes. They are personal, belong only to you and can be constantly evolving. Raising or taking care of any child with a rare disease comes with a huge set of additional responsibilities. There is shame in asking for help and you know what they say, the more the merrier.